Certifications
Certification n° IT232719 Rev. 01 of 12.09.2018, expiring on 21.11.2021 - BUREAU VERITAS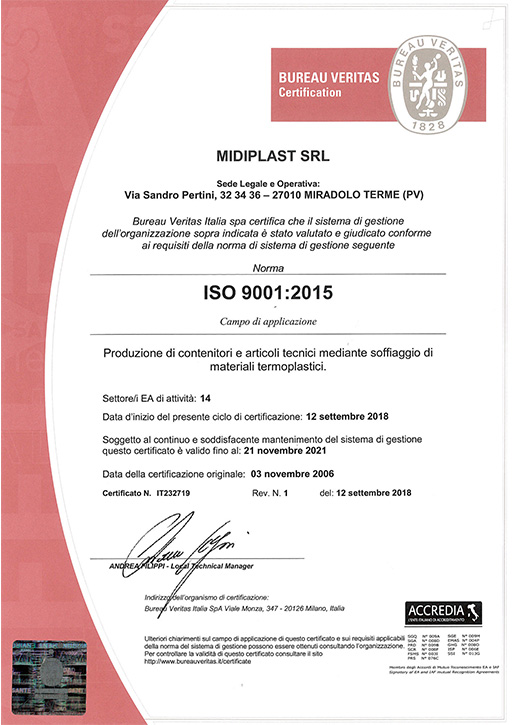 Midiplast operates in a " Certificate Quality Management System".

Always been committed to Quality, the Company has made of it an indispensable operative instrument for prevention, development and competitiveness.

Midiplast's goal is the permanent and continuous improvement of its performance, in order to increase the fulfilling of each customer.

Our procedures are certified according to the UNI EN ISO 9001:2015 by BUREAU VERITAS
Biodegradability's certificate of Plastic products made by Midiplast srl, that uses the ECM Technology MasterBatch Pellets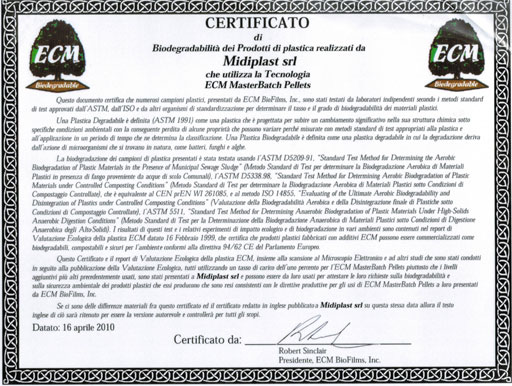 - It makes the plastic fully biodegradable.
- No toxic residue
- Production of flacons, transparent or in any color without a significant change in the characteristics
physical properties of the product.
- Conformity with FDA, SCF and EFSA for use in applications for the contact with food.
- The product can receive the mark as "biodegradable" because it biodegrades aerobically and
anaerobically, without needing additional reactions to heat, light or physical stress and so
result in any place where it is abandoned where taking place another biodegradation.